Universitas Dian Nuswantoro (Udinus) had attained another achievement in a global event through its young athletes. Dozens of students who represent two sports units at Udinus won several medals, competing against athletes all around the world.
The International Competition of 'Garuda Open Queen Kalinyamat' was held from September 8th to 10th 2023. Among thousands of participants, Udinus Karate Unit successfully brought 12 medal awards in various categories, which consist of 9 gold medals, 2 silver medals, and 1 bronze medal.
Two young athletes were competing in the category of Senior Men's Kumite -75kg, namely Muhammad Wafi Rohman, an Undergraduate Student of Communication Science, and Ravi Firman Dwirahma, an Undergraduate Student in the Management Program. Moreover, Ravi also participated in the category of Senior Men Individual Kumite.
Continue with Brown Belt Class of Male Student Festival participated by Aurel Narendra Ichsan, an Undergraduate Student in the Communication Science Program, who was also competing in Senior Men's Kumite -67kg along with Renditya Hikmal Aryantara, a student of the Environmental Health Study Program. Meanwhile, Getta Shafada Aryadilana, who represented the Study Program of Management competed in the category of Senior Men's -84kg.
In addition to the achievements of male athletes, female students were equally enthusiastic to join as well. Five female athletes also took part in the competition which was held in the 'House of Jepara's Woman'. One of them is Wulan Pebrianti, an Undergraduate Student of Industrial Engineering, contending in the Senior Kumite-50kg Category.
There were also 3 students in the female category who represented the Bachelor of Communication Science. Those students are Faradilla Syahrani, Gabriella Arvita Kusuma Ayu, and Chivia Athaya Insyra Gunawan, competing in the categories of Senior Kumite-61kg, Senior Kumite-68kg, and Individual Female Student Festival.
Whereas Chavella Teyza Putri Vedhayana, a Student of the Management Study Program, contended in the Senior Women's Kumite-55kg.
Gabriella Arvita, one of the athletes from Udinus' Karate Unit, hoped that her accomplishment could encourage other athletes to constantly improve more in the future, taking home the gold medals.
"I hope to see Karate athletes from Udinus consistently excel and uphold Universitas Dian Nuswantoro's positive image in all types of competitions," said Gabriella.
Igniting other athletes' motivation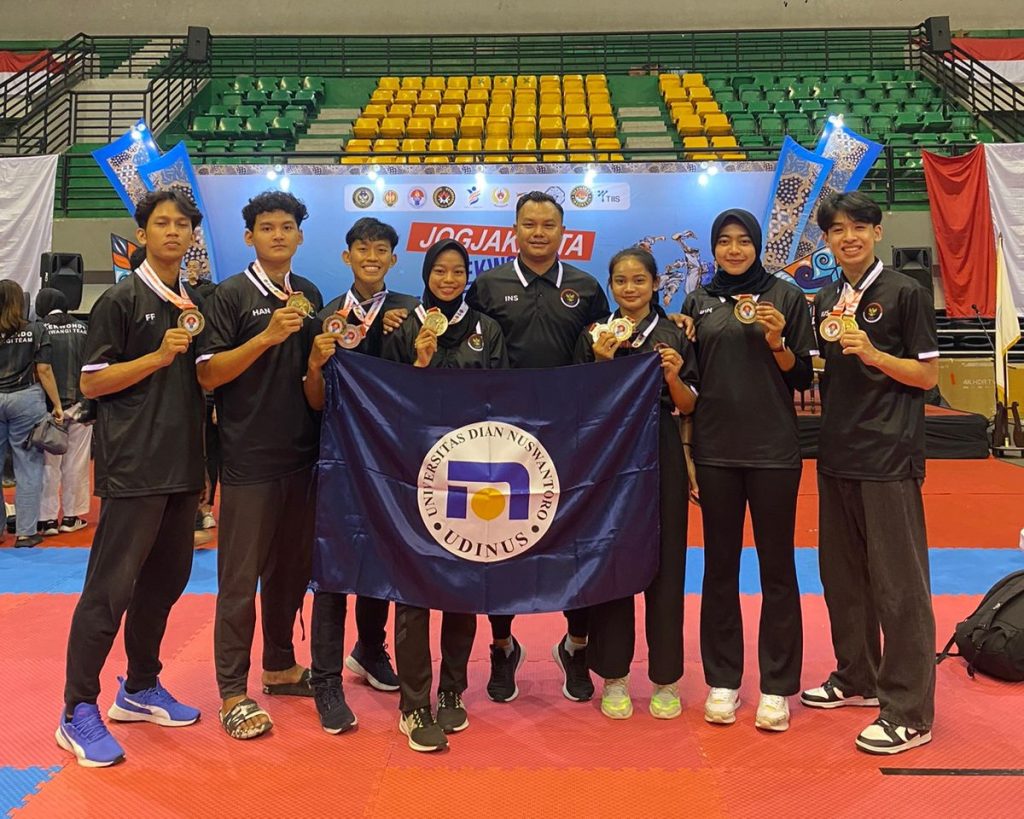 Besides Karate, athletes of the Taekwondo Unit at Udinus were determined to keep up. They successfully took 10 medals in the 'Jogjakarta Taekwondo International Open' event. The contest started on September 13th until September 16th, 2023, and was participated by 3.045 athletes from across the globe such as Singapore, Malaysia, Thailand, and Nepal.
The awards consisted of 7 gold medals, 2 silver medals, and 1 bronze medal. 7 gold medals were taken by Henindra Agung, Fahad Abur, Dinda Putri, and Kikan Nurhaliza who sequentially contended in the categories of Male U.87kg, Male U.68kg, Female U.73kg and Female U.58kg.
Not only that, Aurilas Marvel, a student of Visual and Communication Design, along with Anggara Wahyu Putra, a student of the Management Program brought home the gold medal in the Men's Poomsae Team Category. Angela Khansa from the Management Study Program represented the Women's Poomsae Team Category.
Furthermore, two silver medals were triumphantly attained by Anggara Wahyu Putra in the Poomsae Individual Class. Lastly, Aurelius Marvel took the bronze medal in the category of Men's Individual Poomsae.
As the head of the Taekwondo Student Unit at Udinus, Anisa expressed her joy toward the achievements of her members. She also felt a sense of relief, knowing that the hard work put in by those athletes had paid off.
"We are hoping that we will attain more awards as well as experiences in the upcoming events," stated Anisa.
Dr. Rindra Yusianto, S.Kom., M.T., the Head of the Student Affairs Bureau at Udinus, showed how happy he was regarding the athletes' accomplishments in the international event. He said that the Bureau of Student Affairs would support athletes with scholarships who excel in national or even international events. In addition to that, those achievements serve as a way to showcase the Campus Achievements to foreign Colleges.
"With the consistency of these achievements, we aim to convince the public that by pursuing education at Udinus, they can gain national and even international achievements which applies to both academic and non-academic categories," explained Dr. Rindra. (Udinus Public Relation/Ika. Photo: Doc. Student Affair)