Communication Science students of Universitas Dian Nuswantoro (Udinus) released their debut singles at an event named 'Makjegagigs Vol.1,' which took place on Monday, November 13, 2023.
The music show was hosted on the rooftops of the third floor of the H building as an output of the Music Communication course. All students were permitted to see and enjoy the show, free of charge. A lot of students were seen watching the musical performance.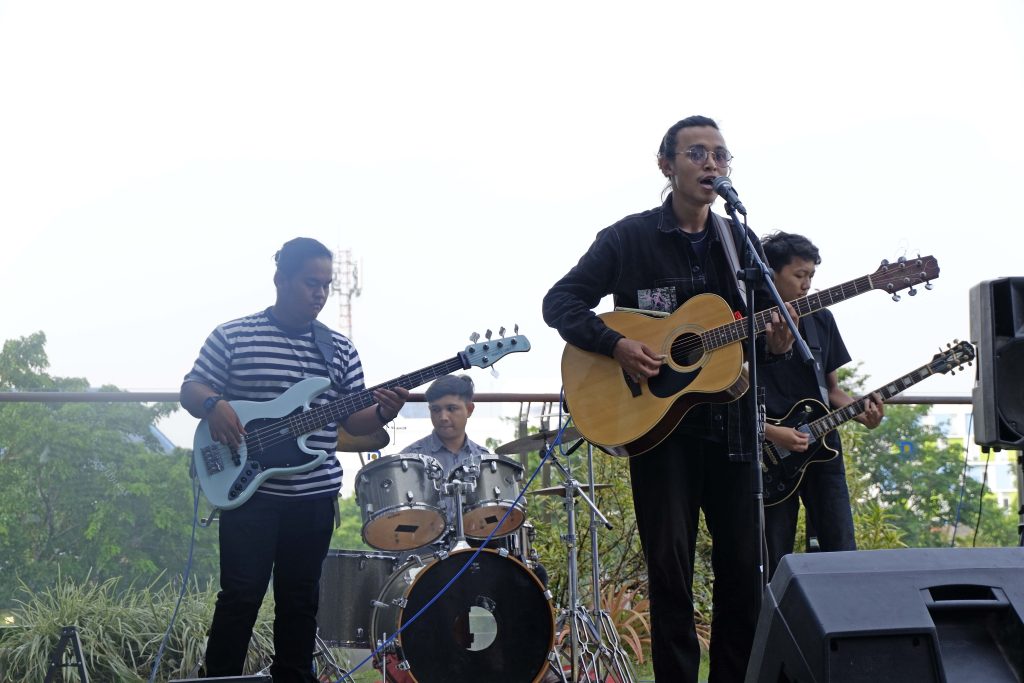 There were four bands that showcased their first singles, they mainly consisted of Communication Science students and members of the Music Student Activity Unit. The Music Unit sent two bands, including 'Paradigm' and 'Diranciva.' Moreover, there were also two bands representing the Department of Communication Science, namely 'Sweet Band' and 'Lost Emotion.'
Not only did they collaborate with the Music Unit, Swita Amalia Hapsari, M.I.Kom., the event initiator, explained that Makjegagigs was fully supported by the Communication Science Student Association, which was in charge of planning and organizing the event.
Furthermore, Swita also expressed her utmost gratitude to the students who made this event come to reality. Several student and faculty members also gave positive feedback for Makjegagigs.
"We have put two months' worth of preparations into this event. During those two months, students must produce at least a single. Moreover, they also need to practice regularly and synchronize their chemistry. They need to do so as chemistry is essential, and who would have thought that they would succeed? I felt every effort and energy radiated by students in making creative spaces. The results were pretty satisfying and lots of visitors came to our show," Swita explained.
It is important to note that the Music Communication course is a mandatory course for students who take the Creative Arts Concentration Field. In this course, students have to form a band, arrange a song, do a recording session, and produce a song. Currently, the campus offers two concentration fields for students of the Department of Communication Science, including Creative Communication and Business Communication. (Humas Udinus/Ika. Foto: Humas Udinus)